Wow, great new logic puzzle I just discovered!
In this logic puzzle you have to choose nine unique numbers (1 through 9) so that each row and column has a sum of 9 or less.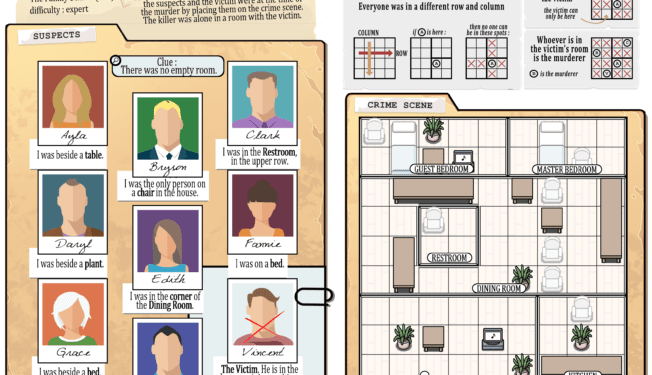 They are inspired by whodunit stories, and two popular classic puzzles : the Sudoku, and the text-based logic grids.

The Griddle is a puzzle blog updated Wednesdays (when possible) with a variety of puzzle types.
The puzzles are authored by David Millar and can include classic word searches, sudoku variations, Nikoli-style puzzles, and many others. Check out the most recent puzzles or dig through the archives from the links at the bottom of each page.
Drôle de nom, n'est-ce pas 😊
C'est ainsi que j'ai décidé de baptiser un puzzle que j'ai conçu le week-end dernier, comme un cadeau pour pour ma compagne.
Le but est de remplir une grille de lettres :
↓
→
Les indications en …
Yesterday I was crafting some puzzles for my girlfriends, and I was looking for letter-based ones where I a secret word would be revealed once solved.
With this same goal, I had already once worked on an open-source JS word search generator: https://lucas-c.github.io/wordfind/
(pour les francophones …