Today, I am happy to announce version 2.3.0 of fpdf2, code name: Unbreakable!
https://github.com/pyfpdf/fpdf2/
Doc: https://pyfpdf.github.io/fpdf2/
Why Unbreakable?
As a tribute to M. Night Shyamalan movie
Because using fpdf2, your Python code can never break!
...
Just kidding, I would be …
Issue #2 is out !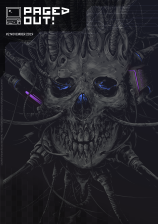 Paged Out! is a new experimental (one article == one page) free magazine about programming (especially programming tricks!), hacking, security hacking, retro computers, modern computers, electronics, demoscene, and other similar topics.
Include a crazy prime Python quine ! (page 35) O.O