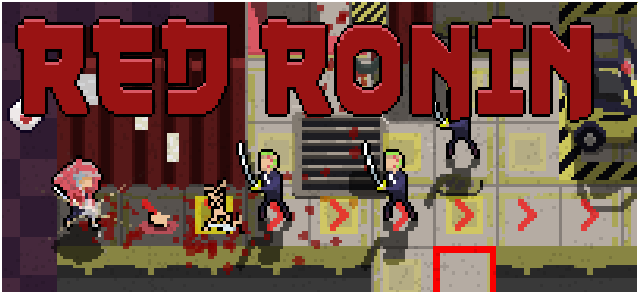 It's like a Cyberpunk Hotline Miami Sokoban !
Really nice gameplay & music for this short prologue, I strongly advise you to give it a try.
Afterthought: the mix of turn-based & real-time mechanics has some similarities with the excellent Gunpoint
Je crois que j'envisage d'écrire un article sur ce sujet depuis que j'ai créé ce blog ! J'ai retrouvé ces notes datant d'au moins 5 ans, déposées au fin fond d'un fichier texte :
Dans tous ces jeux, un des plaisirs principaux provient de la découverte, à deux ou plus, des règles …
Le week-end dernier, j'ai participé à ma première Global Game Jam, à Nantes. Dans cet article, je vais vous présenter comment elle s'est déroulée, et faire le point sur ce qui a plus ou moins bien marché pour notre projet, The King Must Know, dont voici l'écran d'accueil :
J'avais déjà …
Daniel Linssen, aka managore, is a fantastic indie game developer. I already mentioned one of his games, HopSlide, in a previous blog post (FR).
Now that it's clear that I am totally unbiased about this incredible game maker, lets talk about his latest games !
WalkieTalkie
This first one simply amazes …
Connaissez-vous l'accessibilité numérique ?
En très bref:
L'accessibilité numérique est la mise à la disposition de tous les individus, quels que soient leur matériel ou logiciel, leur infrastructure réseau, leur langue maternelle, leur culture, leur localisation géographique, ou leurs aptitudes physiques ou mentales, des ressources numériques.
Pour plus de détails …
Je ne veux pas vous parler du jeu de farbs en Puzzle Script: http://www.puzzlescript.net/play.html?p=6866423 (je n'ai toujours pas compris comment il se jouait)
Non, le concierge de donjon dont je souhaite vanter les mérites est celui d'Anna Anthropy, disponible sur la plateforme …
Ce soir, je veux vous parler de petits jeux coup de coeur. Deux petits jeux gratuits, créés par des développeurs indépendants.
---
Le premier se nomme 'Til Cows Tear Us Apart. Il a été conçu par Pierrec, le fantastique auteur de l'Oujevipo, au cours d'une GameJam sur le thème "Space Cowboy …