Un petit rogueligue auquel j'ai bien accroché, aux graphismes minimalistes, à la musique discrète mais agréable,
aux mécaniques épurés (flèches directionnels + barre espace + 2 touches pour les items)
et dont la durée de "run" total me convient bien (comptez une petite heure)...
Dans l'ensemble le jeu est bien équilibré et fluide, et m'a provoqué une belle envie de "reviens-y" !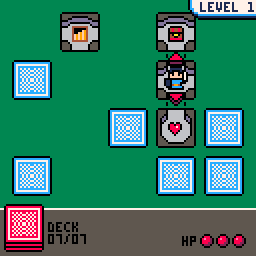 A deck-building, dungeon-making, rogue-like card game made for the 2019 GMTK jam!
Really clever & original game mechanics. It's pretty, fast and polished.
My only real complain is the random difficulty level.