Parcourez l'agenda du 49 pour découvrir plus de 812 dates d'événements culturels dans le Maine-et-Loire.
2 hectares en plein air de stands pour VOUS faire JOUER

Tous les éditeurs de jeux francophones, des assos de jeux, auteurs, bénévoles sont présents pour VOUS faire JOUER.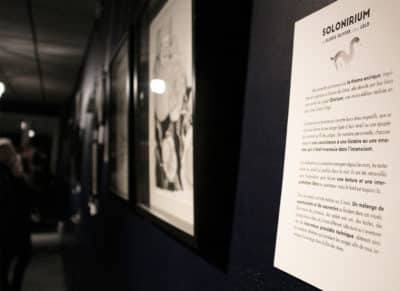 Je vous recommande chaudement cette magnifique expo de Lélo !
Le vernissage a lieu mercredi où un concert aura lieu, mais ses œuvres pourront être admirées pendant 3 mois dans le hall de l'Auditorium à Rezé ainsi qu'à la Barakason.
In the introduction of the event, I tell attendees their job is to meet people and make friends. They are supposed to join groups, battle past that awkward silence that occurs when they do, and have a great time with new people.
The Pac-Man Rule
When standing as a group of people, always leave room for 1 person to join your group.
J'y serai :)
Bienvenue à cette nouvelle édition de l'increvable, indéboulonnable, inoubliable, charliessime (actualité fait loi), impertinent Colloque Bob le Rôliste.

Cette année, Bob vous accueillera le samedi 3 mars 2018 à partir de 14h00 à la Maison des Jeux de Nantes !
Canary tokens are a free, quick, painless way to help defenders discover they've been breached (by having attackers announce themselves.)
Embeddable in :
fake URLs ending in .html, .js, .php...
emails to detect if you are spied on
files in the cloud
as file watchs do detect spies on filesystems
desktop.ini for Windows directories or zip files
MSSQL & MYSQL
Word / PDF documents
a JS resource is used elsewhere
Depuis 2000, L'Absurde Séance fait découvrir des films en marge de la programmation actuelle : Cinéma d'Exploitation, Avant-Premières, Inédits, Séries B, Curiosités, Perles Rares et très gros Nanars. Plus de 650 films passés en 15 ans.
Et la semaine prochaine c'est l'Absurde Séance Nantes International Film Festival !
Festivale des libertés numérique mais pas que
15-16-17 mai 2018, Rennes
La compagnie Les Ateliers du spectacle est dirigée par Jean Pierre Larroche
Le Guide du Roliste Galactique, l'encyclopédie des jeux de roles
Bienvenue sur le site officiel du Nombril du Monde à Pougne Hérisson (79), pays des histoires, des contes et des légendes. Retrouvez les événements, le festival, le jardin, les formations et toute l'actu du nombril.