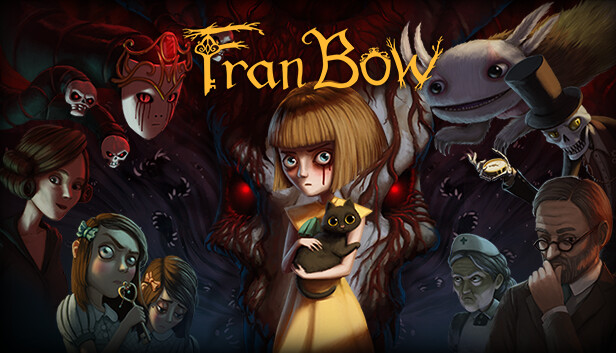 Un très bon jeu, disponible sur Steam pour 15€ hors soldes, en anglais seulement.
Je comptais initialement écrire un petit article de blog dessus tant j'étais emballé par les premières heures de jeu,
véritablement envoûtantes, mais j'avoue que le fin m'a un chouilla déçu.
C'est toutefois un très bon jeu dans la lignée des Chevaliers de Baphomet ou des jeux d'Amanita Design :
la narration et les personnages sont bien campés
la direction artistique est superbe, avec une style mélangeant mignon et horreur
les scènes de transition en noir & blanc - avec quelques touches de rouge - tranchent et sont magnifiques
l'animation est réussie et très détaillée. Par exemple dans certaines scènes, lorsqu'on ne fait rien, son chat joue avec des mouches.
j'y ai trouvé des inspirations venant d'Alice au Pays des Merveilles, de Miyazaki, de l'Histoire sans fin...
les minijeux sont courts et réussis : labyrinthe, casse-tête à base de rouages, traversée de crapaud...
l'ambiance sonore m'a plu
Le "MakingOf" documentaire du couple derrière le studio Killmonday (Natalia Figueroa and Isak Martinsson) sur ce jeu est aussi très intéressant :
https://www.killmondaygames.com/2016/05/26/behind-the-scenes-of-fran-bow/
pé oh iyedes ej egre : ie sahe iy iyedes nihi thi ej egre
Clearly the path cleared by Amanita Design, and their wonderful organic point and clickers (Samorost, Machinarium), is one down which others should walk. A team that has followed extremely closely is Springtail Studio, a two-man indie studio who have created Alchemia. To say it's similar to Samarost would be something of an understatement. And of course in the inevitable direct comparison, it falls short. But it remains a charming, if slightly wayward, little adventure.
Created by Jurgis Jonaitis and Justinas Malijonis, Miestas is actually a follow-up to Menulis. Both games incorporate hand-drawn graphics and animation and create a surreal world adventure to point-and-click through
Ever wandered what happens when you die, the next minute after your soul leaves the body?