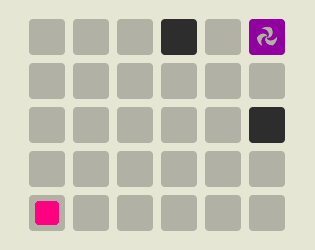 Un autre jeu à recommander pour les amateurs de puzzle rapide !
De mon expérience, ce jeu vous met un peu en transe.
J'ai résolu les derniers niveaux de manière bien plus instinctive que consciente !
J'ai beaucoup aimé son principe, à la fois purement "logique" où comme l'espace de mouvements possible est très limité on peut le résoudre "mécaniquement", mais avec aussi une autre dimension plus "stratégique" :
Alors... pour atteindre l'objectif, il faut d'abord que je le longe pour me construise une "rampe", et donc que je me rende dans tel autre partie du niveau en évitant les cases roses de reset...
Très savoureux :)
we had to use the only space left to display the game: the URL address bar at the top of your browser window.
Look up at the URL bar!
This game was created for the "Ludum Dare 42" game jam, under the theme "Running Out of Space"
Very ingenious, I love it !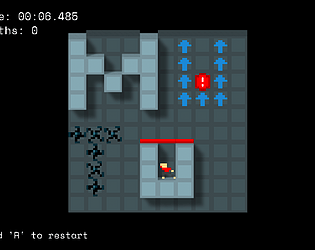 Nice and fast platformer, short and not too hard, with big pixels